Click Here for New Coloring Page Categories added This Month
*Click here for online coloring pages*
For more coloring page categories, click on the letters below
Coloring Pages Directory - O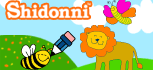 Shidonni - is a virtual world where what you draw comes to life! You then feed, care for, and play games with your creation.
Click here for Coloring Pages Archive (86 coloring pages)
Click here for online coloring pages
a "*" after a category name means it is a link to another site. I am not responsible for pictures on linked websites.
Please use these coloring pages for personal or educational use only. Do not sell, or use in a product you will sell.