A babies Bedroom - lovely roomaker, with adorables babies.

A Date in Washington - There's no need to dress up when visiting the historical halls and buildings in the National Mall. Hundreds of thousands of tourists and students flock to Washington D.C. to learn about America's past leaders and rich history, but this cute couple is here for the sights, sounds.
A fun park - A great collection of dress up games and other types of games.
A Holiday In The Bahamas - A holiday in the Bahamas is a great place to be! Make sure your dressed for the surroundings, a wonderful holiday destination should really allow you to show off your new outfits. Put together some outfits for this great holiday, once you have chosen all the items you can see how they all look together on you in the Bahamas!
A kid's Heart- dress up dolls
A large collection dress up games.
A Perfect Wedding - For this girl to have the perfect wedding everything has to be spot on! Since your in charge of the dress you should try to make the most amazing gown for her to get married in. Remember... a wedding is one of the most remembered days of a girls life so make sure you choose the best outfit possible.
A Room in Time - Use your knowledge of history and creativity to design a room for your favorite My America characters.
A Scooter For Sierra - There is nothing quite like a girl on a motorbike, even better yet a fashionable girl on a motorbike. Dressing up just right will win over all the boys so make sure you dress to impress with this cool dress up game.
Absolutely Fantabulous Shoes - Getting ready to speak on TV is a lovely lady that needs your help! She
about to go on TV but needs help getting ready, she is asking your advice on the fashion items in the dress up department. Do you think you can help her look perfect for the show? If you think you can do it, why not give it a shot and help her out!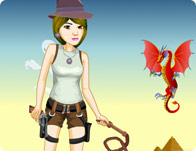 - Adventure Inc. - This beautiful adventure seeker is constantly on the search for treasure to increase her massive museum of priceless trinkets and gorgeous jewels. But first she'll have to brave ancient evils or vicious nightmares before she can establish a bulkhead in this untamed wilderness!
Airline Stewardess - Take to the skies in the best stewardess outfit! Flying is a breeze and you only deal with first class. Air dressupgal is here to take you wherever you want to go. Where would you like to visit? Get on the airplane and fly away.
Alice - Alice in Wonderland needs a new outfit for her next adventure!
Alice Wonderland Rabbit Hole - Alice in the wonderland never gets old, and here it is once again your turn to pick out your favorite outfits and accessories to fit in the world of Alice! She looks adorable in her clothes, but she needs your help to look even cuter. Beware of the rabbit!
Alice in Wonderland - dress up Alice!
Alice in Wonderland Mini Maker - It is very cute with all the characters of the famous story.
The Aliens Land - A creepy scene!
All American Girl Style - This all American teenage girl is looking for a new outfit, since she is American you should try to style and accessories for an American girl. There are many different combinations of items in her wardrobe so go through them and try each item with all the other items until you find an outfit that suits this young American girl. Take your time and your sure to come up with something that makes her look absolutely stunning.
Amusement Park Maker - Design your favorite theme park with characters and princess!
Amy the Artist - The famous artist from New York City. After you finish dressing her up, you can also help her with her painting!
Angel Faerie - You are an angel faerie just waiting to get into some new wings! Choose your clothes, and everything about this lovely angel.
Angels In The Snow - What's the first thing you do when you see a nice layer of snow on the ground? I mean after scooping up a snowball to throw at the first person you see! :) Drop down in the snow and make an adorable snow angel for everyone to see. Be careful not to trample it when you stand up, and don't forget the halo!
Angelica - Dress up Angelica from Rugrats. She is getting tired of wearing the same clothes in every episode!
Angelina Jolie Celebrity Makeover - Angelina called you the other day to make an appointment in your salon. When she arrives make sure you pull out all the bells and whistles to make her look as good as possible... who knows she might make you her personal makeover artist.
Animal Party Carnival Celebration - You are going to throw an old fashioned party with an animal theme. You and your guests will dress up in fancy clothing and have animal masks to wear as part of the parties theme. Before you can attend the party you are going to need a makeover. Choose from many different gowns, accessories and even mask to wear for the fun filled event.
Animation Grove - The place to find the fun stuff!
Anime Angel Aliana - Help this beautiful Anime Angel find her wings! What a lovely Anime Gal she is. What kind of Anime Angel are you? If you love angels, anime, and if you are pure of heart and love to dress up, then this game is for you.
Anime Boat House - You are taking a trip on the only boat that will take you to the island where you grew up. Fortunately its a Boat House which means you can get ready for your arrival. Choosing what to wear for such an occasion should prove a little difficult considering you haven't seen your family for 5 years. Make sure you choose the right clothes for your reunion with your family.
Anime Doll Maker - Dress Naruto, Anime Girls and Sailor Moon dolls.
Anime Fighter - This is the Anime Fighter from Asia and she means business. Help her choose the best looking outfit for her role in the newest anime movie, looking her best is important to her work so make sure you do a great job to impress everyone!
Anime Punk Girl - Time to try your dress up skills on a Anime styled girl. Choose the right clothing so her and her friends can join the Anime club for girls. There is a wide variety of items to choose from so take your time and make the perfect outfit for this girl.
Animal room - from The Dolls World
animatedhalloween.com - In the games room play Ghostina: The Ghostly Dress Up Game
Animated Maker - Create a room with an animated background and furniture.
animatedtalltales.com - Play the Paul Bunyan Dress Up Game
Anime Doll Maker - The first anime game on The Doll Palace. It is perfect dress up for all girls that love Magic and Anime.
Anne Hathaway Makeover - Dress up the beautiful Anne Hathaway celebrity and make her look just how you like. Stunning graphics make this game more realistic than ever. See what she looks like when you are all done!
Aquarium Maker - Create your very own aquarium! Dress up your fish bowl by selecting every aspect of the look, including the fish type, pebbles, decorations, and even the bowl itself. You will surely enjoy playing with all the exciting options and lovely colorful accessories in this one of a kind fish tank. We promise you wont need to worry about feeding your fish or changing the water ever, which makes him your perfect pet.
Arabian Princess Dress Up Styles - This Arabian Princess needs to look perfect all day every day, she has many helpers, you are the stylist for her. She requires you to make a wonderful outfit for to days strole through the palace courtyards. Choose from many different items, mix and match the perfect items to make an awesome outfit. Take your time and you will surely come up with a great outfit.
Archie's Wacky fun stuff - Dress Betty, Veronica and Jughead. You can also help Mr. Weatherbee with a new look and help Ronnie become a model.
Architect Studio 3D - Fantastic site if you like to design houses.
Ariana Danae' Faerie Doll maker
Ashley Tisdale - Dress up doll.
Ashley Tisdale Makeover - Celebrity Ashley Tisdale is ready for her makeover. Choose the right one and complete her makeover as she will go to the ramp after this.
Ashley Tisdale Makeover Time - Ashley Tisdale, the well known Celeb, has called upon you for your excellent skills in the world of Makeovers. Make sure Miss Tisdale is looking her very best for those cameras and the Red Carpet. A celebrity can never look too good so keep trying until you have the perfect combination of items to make her look the best she possibly can.
At the Movies - Dress the Boy and Girl on a movie date!
At the Spa - Going to the spa for a facial and a massage is a great way to unwind from the stress of the outside world. With the New Age music playing, the aloe face scrubs, and long showers, you'll feel incredibly relaxed and ready to take on all the ills and nastiness the world will throw at you. Find your center at the spa and carry it with you to the office.
Atomic Babes - Give Go-Girl a radical makeover from head to toe in the Atomic Babes Beauty Salon!
Autumn, the Fall Fairy - Autumn, the Fall Fairy, is happy, for Fall is Autumn's favorite season. She is an earth fairy, a fairy of creativity, and a fairy of Thanksgiving. She smiles with lively eyes as she sets up camp on her favorite leaf and watches all the beautiful colors. Autumn's favorite fun game is to use her fairy powers to imitate the changing colors of leaves on her wings. Although Autumn is extremely busy, she always keeps in style. She wears bright colors that contrast with the leaves to ward off danger!
Avatar's Neytiri - The war is finally over between the humans and her tribe. Neytiri and her mate Jake Sully can finally relax and go on their honey moon. Help Neytiri decide what she should wear on her honey moon. Jake Sully is pretty picky, so she wants to look good!
Avery's Dress Up Game - A fun game from beaconstreetgirls.com
Avril Lavigne Celebrity Makeover - Avril Lavigne has become an icon of punk-rock music for teens ever since her debut single Complicated. What makes dressing Avril even more fun is that she tends to wear very original clothes.