Sabrina's Candydolls - Sabrinasite.com: The most simple and complete candydoll maker.
Safari Sam - Samantha is on a Safari in Africa and she could use a little bit of help! Pick out the perfect outfit for her trip and watch out for all the wild animals!

- Safe Shores - This lovely lifeguard knows the importance of the fashion rescue! When she's trying to warn people with the sharks floating along the coast, she always carries an extra pair of clothes to give the people she saves from drowning and poor fashion sense!
Sagwa - countdown to the new year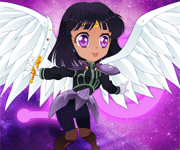 Sailor Moon Dress Up - Create your own army of moon warriors who will star in the most dangerous adventures you can imagine. Led by your personal version of Sailor Moon, the heroines Sailor Mercury, Sailor Mars and Sailor Jupiter will adopt fresh looks to face their enemies, once they've been transformed
Sailor Moon - Sailor Moon is back and needs your fashion advice, before she heads back out and fights evil!
Sally DressUp Baby - You are ready for a trip to the park with your kids as it is their playtime. You know better when your kids will turn preppy, when they will be hyperrnactive, when they will be calm and quite. Kids always like simple dressesrnas that makes them feel more comfortable while playing. Dress your kids rnwell and have fun playing with them!
Sally Satchel's Sleek Boutique
Samurai Warrior Doll - Being samurai is your calling, and you are training to be a mighty warrior! You are a fearless samurai ready to take on the world. Just pick out what to wear and what accessories you need.
Sandcastle creator - build a sandcastle on the beach.
Sarah Loves White - Sarah's favorite color is white, from fashion to decorating she thinks white is the best for her! Since she is going out with friends for a fun night on the town, she will want to look as good as possible. Do you think you can help this white color loving girl look fabulous? Try adding a touch of color somewhere to spice her up.
Scarecrow dress up - Scarecrow is attending the Thanksgiving Parade - he bought too many clothes and he does not know which funky outfit to choose from! Should he dress up like a spiffy pilgrim or impersonate his friends Lion and Tin Man?
Scarlett Johansson Celebrity Makeover - This celebrity is about to take the lead role in the movie she is producing, only problem is her makeover artist left to get some coffee. Do you think you could step in this once to help this celebrity look awesome for the new movie?
Scary Vampire Girl Dress Up - This girl is a evil Vampire that needs your assistance. She has summoned you to perform your dress up and makeover skill for her tonight. To make things even more fun there are plenty of things we can do to change her appearance. Good luck!
School Dress Up Doll Playset - Dress up this little girl so shes ready for school, you know what its like when you wear the wrong clothes on your first day... Lets help her fit in to her new school with ease on her first day.
School Girl Stylist - This cute girl is going back to school but before she goes she is going to need a brand new and stylish look. Try to give her the look she desires so that she can impress all of her wonderful friends at school this term. Make sure you choose the best looking items as you can't let her go to school in any old outfit, she wants to make a good impression this term and its down to you to send her off looking great!
School Trip - School trips can be educational, but you are more interested in making sure you have the perfect outfit. While you are out, the students are causing a ruccus on the school bus. Can you help make them behave? Better yet, can you look great while doing it? Try your best to pick out the perfect outfit for your class trip.
Sea Goddess - Risen from the oceans, this Goddess of the Sea is getting ready for her daily stroll. Dress her up in thousands of different combos.
Season Of Fall Fashion - Fall is a time of year when the leaves are orange and brown, fortunately these are not the colours of your fashion items in this game. Go through all the cool colourful items and choose the ones you like most. Once you have chosen the ones you like you can see how the whole outfit looks when you select them all. There is a large range of different items to choose from so your imagination will be the only limit in this game.
Seaworld dress up game - Dress up the underwater girls and create a pretty scene of the seas.
Secret Agent Puppy - This cute puppy is a secret spy for Planet puppie. Help him with his disguise to keep the earthlings from discovering his secret identity!
Selena Gomez - Put make up on the fantastic actress, Selena Gomez, who plays Alex Russo on TV.
Selena Gomez Red Carpet Styling - Selena Gomez the young celebrity is in need of a last minute makeover before she hits the red carpet. Use all the different options to make Miss Gomez look absolutely stunning. Her regular stylist has not turned up for today's events. Prove to Miss Gomez that you are just as good as the professionals. Change the backgrounds to get a good contrast on the style your creating. Good luck and remember to have fun while creating an awesome style!
Selena Gomez in Style - Selena Gomez is looking for the best makeover in town, since your town is kind of small you are the only makeover salon in the area. Make sure Miss Gomez looks absolutely stunning when she leaves your shop.
Several small rooms to decorate.
She Charms Snakes - This gypsy queen loves to charm snakes because the slippery reptile is really just another accessory. When she gets bored with telling people's future, then she'll grab a snake from the tree branch or from a marketplace and have a brand new pet. If she can charm snakes, then surely she can charm you with her gypsy style!
Shopping Dress Up - She wants to go shopping and needs your help looking fabulous.
Shopping Gal - Do you dare try rummaging through this lovely stylistas shopping bags? If so then you will get all the fashion inspiration that you need for your future trendy chic spring look!
Shopping Mall Maker - It's an original site with three floors and six rooms to decorate. You can design a Fashion Shop, Petshop, Hair saloon, Arcade space, etc etc.
Shopping With A Friend - When you go shopping with a friend you tend to dress yourself up in some easy going fashion items. So lets see if you can put together a relaxed outfit that is easy going and comfortable for non-stop shopping. This is your chance to shine when it comes to urban styling, lets see what you got!
Shorties World - You can decorate your room and see what doll your like.
Shoujo Gal - Visiting Japan has never been so much fun! You always wished you could travel to Japan as a Shoujo, or Japanes School Girl. Now is your chance! The sights are beautiful and serene. Not quite Anime, but pick your own style of uniform and accessories.
Showtime Makeover - You are the star of the cinema and the public love you. Before you can head out to your new film debut you are going to need a fashionable new makeover. Choose from many different types of clothes and accessories and not to mention all of the makeup you will need. Once you are done choosing head out to the stage so that you can see your brand new film in style.
SHOWTIME - Where you can make differents scenes, a clasic orchestra or a heavy metal band, with stars and public.
Shrek dressup - Dress Shrek in Santa Claus clothes.
Shrek 2: Travel papers - Click on Travel Papers to create a Lord or Lady
Shy Turtle dress-up - From Miss O & Friends.
The Simpsomaker - create a simpsons character that looks like you.
Singing Pop Star - Singing has never been this much fun. Pick out your accessories and head on the stage to impress everyone with your amazing singing skills. You've got talent!
Sissie - Dress up Sissie. Don't get mistake by her name, she is definitely not a sissie!
Ski Vacations - Where you can select different scenes and a igloo.
Skybreezegames - Here's a link to a cool new Sky Breeze site.
Skybreeze - dress up games menu
Sleeping Beauty dress up - choose a Disney Princess and click on games.

Sky Bride - This beautiful fey bride is waiting for fairy fiancee to return from the war against the lumberjacks in the nearby forest. Although she is very worried about him, the long wait means she'll have the time to get the perfect bridal gown
Snazzy Makeover - This girl loves to get in front of her mirror to change her style each day. Her brightly coloured hair and styles suit her perfectly. Your options in this game can be found in the mirror. They consist of Clothes, Hair Style, Hair color, Eye color, Necklaces, Earrings, Lipstick, Eye Shadow, Nail Color and Eyelash shapes. With such a wide range of different items to to play with, the styles are only limited by your imagination!
Snowboard Girl Dress Up - This cute girl loves wintertime and winter sports, she likes to practice all of them, but her favorite one is snowboard. Play this cool game by dressing the girl up in her snowboarding special clothes. Make her try on some of them and choose the ones you like best. Don't forget to also pick up some accessories and, of course, a snowboard.
Snow vacations - Create the favorite scene for your white vacations.
Somegirlsgames.com -Your source for online girls games.This free online game site is updated often so check back for more dress up games, makeover games and more.
Soup Label - Create a unique soup can label.
South Park - Create a South Park Character.
Space Room Make Over - Create a new look for this out of the world room!
Space Suit Fashion - Help Sam pick out her space suit before she goes into space and fights evil! Click the white figure on the top right corner to switch between body parts.

- Special Agent Ballerina - This secret agent has spent years infiltrating this high end gentleman's club. Only through disguising herself as a ballerina entertainer will she get close enough to bringing down this mafia organization from the inside!
Special Makeover - A special makeover game in a new perspective! You can change just about everything, even her hand! Try it out!
Speedy Sushi Creation - It's time to learn how to cook a new meal, this one is going to be Sushi, you will be going through all the instructions 1 by 1 until you complete the sushi rolls.Once you have completed the sushi rolls for your family to enjoy, you can sit with them and enjoy your very own Asian creations! Who ever said leaning to cook want fun!
Spleak - Paper Doll dress up.
Spleak - World Cup soccer paper doll
Spooky Creator - A Halloween scene maker.
Spooky Room Decor - Decorate your very own room choosing all of the furniture and fixtures. Once you have chosen what furniture you want you can place it in the room where ever you like. Please all of the ornaments in safe places just to avoid any damages. If you get stuck you can even ask a friend to help as decorating is all about imagination.
Sports Games - You can create scenes selecting many different sports. Be healthy
playing Sport Games! You will love it.
Sports games dress up - Featuring Lilou, Lea and Lee!
Spring Fashion - Spring is nearly here and with it comes a whole new line of fashionable clothes and accessories. As a stylist you will have to choose from these clothes and accessories to create a perfect fashion line. Be sure to style your model to exactly how you want her so that your fashion line can be a big hit. Once your done with her clothes and accessories be sure to style her hair so that the outfit will be complete.
Spring Time Fun - Easter Bunny dress up.
Spy vs Spy - Dress up these two spies's so that they can battle it out to the end. Choose from a whole variety of spy gear for them to wear so that they can battle it out in style. Be wary as we never know what may happen between these two spies. Once you have finished choosing their outfits choose their hair styles and even what weapons they carry.
Squeeze the Juice - This is how your fashion-crazy friend dressed her up! Click here to create your own look now!
St. Patrick's day dress up angel
Stardoll - Celebrity dress up site.
Star Wars spoof - Create a scene.
Statue Of Liberty - Here is your chance to dress her up and have some fun with the Statue of Liberty.
Steadfast Tin Soldier - You have been chosen to lead an attack against evil. Choose one of the characters and suit up with the armor we provided you with. Will you lead the TIN-FORMERS to victory? Brought to you by KIDOONS.
Stephanie - Dress up Stephanie from Lazy Town.
Stewie - Dress Stewie up as he takes over the world!
Stitch - Stich has some wacky outfits! So go and help him dress!
Strangely Beautiful Witch Dress Up - Could this witch have you under a spell? She looks beautiful when witches are usually very ugly and green! Although you may be under her spell you should make the effort to make her outfit looks as good as possible or she could turn you into a toad! Take your time to get the outfit right as you never know how she might react to your styling preferences! There are many different items to choose from in this game, going through them all is the only true way to find the best outfit for this strangely beautiful witch.
Strawberry Dolly Dressup - Dolly wants to accompany you on your evening walk. she will make your walk more pleasant and interesting. You can give her makeup, dress her up, match her with the perfect clothes.
Strawberry shortcake StickyStickers - click on fun and games, then the games button by the sun.
The Streets Dance Crew - This cool gang are getting ready for their dance off with the other crew. Your crew can't decide on what to wear for tonights battle so they have called upon a specialist to decide for them, that specialist is you. Choose the coolest styles you can for the three members of this crew.
Stretch's Dressup game - Dress a giraffe in the latest fashions!
Stripes and Checks - These two models have asked you for some help with their costumes for the show tonight. They both know you are really good with clothing and fashion so make sure you prove them right and make them look awesome.
Study Time Dress Up - Fashion is not a school subject per say but happens to be very important even when you are studying at the library for an exam. Choose the style you choose to study algebra in.
Style Seeker Boutique - Help Ella run a successful boutique.
Styledollz - A Great New Edition of the Dress up game site.
Stylish Cat Lover - This lady loves her cats, she also loves her fashion so looking good with her cats
is what makes her happy. She will be entertaining a few guests tonight, lets see if you have what it takes to dress her up in a wonderful outfit that her guest will have to compliment. Take your time there's no rush in this game, remember to make her look wonderful!
Stylish Pajamas Dress Up - This cute girl has always dreamed of having the most beautiful pajamas to go to bed in. Well now you can make her dreams come true, choose all of her pajamas and accessories so she can finally go to bed and dream the night away in comfort and style. Her pajamas will have to look fabulous so make sure you choose them accordingly.
Sue World - She is a cute girl who loves fashion. You can dress her, change her hairstyle, accesories and also play with her! She loves cook, dance and play with her friends. Help Sue and discover Sue World.
Susy's Beautiful Prom - This lovely girl needs a hand with her outfit but is she to ask. Be a great friend and give her a hand to choose her beautiful dress for her extremely important prom night.
Summer Camp Fashion - Summer may be over but this dress up game can remind you of hot summer days. Help this camper look her best. Make sure she is stylish so that she can have lots of fun. If you get it right she will be the camp queen!
Summer Camp Trekker - Your a fashionable girl so why not take the fashion with you on a camping trip to the forest. Choose the best style for your trip and show off your styles to your friends. Use your mouse to click on the different options to cycle through the fashion items. Enjoy!
Summer Day - Relax and have fun!!
Summer Maker - Don't you just LOVE summer? so enjoy the sun, sand and the ocean!
Summer Sports - Summer Sports is a great dress up game, you will be based in a sunny location and asked
to dress up a pretty girl so shes ready for her summer vacation. This girl loves her sports so try out your outfits along with her sporting items, see which looks best by going through all the different items 1 by 1 until you find the perfect outfit! Good luck and have fun!
Summer Sport Girl - Are you an athletic girl? Would you like to know what the fashion trends for summer 2011 are? In this fantastic game of manga fashion for playing sports at the beach or in the water you'll find out what all the latest styles are, trying on bikinis and bathing suits so you have a cool look for
Summer Wedding - This is no ordinary wedding! This beautiful landscape will the backdrop to the union of these two beautiful people! Style them in some elegant summer wedding gowns and tuxedos for the occasion. There are plenty of clothing options for these two lovebirds on their special day, but don't forget your sunglasses because it'll be very sunny out!
sunnykidsplay.com - a good website. I think you will enjoy it!
Super Cute Babies Dress Up - These cute babies will be having their photos taken for a magazine very soon and need to look their best. Do not hold back when choosing their outfits, mix and match the little girls items until you come up with an outfit that looks perfect for her. Once you have done that you are able to dress up the little boy because he needs to look cute too! Take your time when choosing the clothes for both the children so you make them look super cute!
Super Girl - Help dress up super girl, even she needs some fashion sense when fighting crime!
Super Model Makeover - Being a leading stylist in the fashion industry can be hard work at times as you are always called out to all of the fashion runway shows. At times you even get called out to those wonderful photo shoots. This time you have been called out to a photo shoot and its your job to choose all of the models clothes and accessories. Once you are finished with her clothes and accessories be sure to style her hair so that she if picture perfect.
Super Villain Dress Up - With every super hero through out the years there has always been one super villain. This time you are the villain and you have to choose a costume for you to wear to wreak havoc across the city and leave your trade mark. Sometimes it is fun to be one of the bad guys - well now is your chance. Heros watch out, you are on the prowl.
Suzy the Receptionist - Suzy the receptionist is the person everyone sees first when they enter this office. Suzy needs to look presentable and coordinated as she is representing the company. The company president has asked you (the stylist) to help revamp Suzys look so that she looks more like a front office executive. Take your time to go through all your different options until you feel like you have come across the best looking outfit for the job at hand.
Swanky Modes - Fashions fade, style is eternal - an elegant tailor-made Swanky lady….just for you.
Sweet 16 Party Drive - You just got your driver's license today and after shopping at the mall you need to drive home to get ready for your big Sweet 16 party. Be careful while driving and make sure to avoid the obstacles in the road including the oil spills. Once you are home you can try on all your new outfits, mix and match so you look awesome for tonight's birthday party. There is nothing quite like a sweet 16th birthday so looking your best is important!
Sweet Angel Dress Up Game - This angel has asked you to help her find a new outfit. Your task is
simple, make her look as stunning as an angel should look. You have plenty of time to go through all of the angel items until you find the best looking bits of them all. Once you have done that you can give the angel a makeover, giving her the makeover makes a beautiful angel stunning!
Sweet Couple in Costa Rica On Holiday - This couple are on holiday and as their personal stylist for the holiday its your job to come up with some cool outfits that this couple can use to go out and enjoy their time together. To come up with great outfits, use your imagination by mixing and matching different items from the wardrobe. Come up with an outfit you like then click the Done button.
Sweet Doll House - In this dress up game you create a scene for some cute animals! Choose the furniture and animals and drag them up to the house!
Sweet Dollies - An avatar and dress up game.
Sweet Home - In this game you will be show a list of different items, each of these items can be found in the room your looking at. Click on the items around each room until all the items have been cleared from the list. This game can get a little tricky so be ready for retries!
Sweet RoomMakers - Six RoomMakers with diferents decors. A Coffe Shop, Two Petshops, a Garden, Living Room and a Playroom.
Sweet Treat Dress Up - Dress the Anime Girl in pretty pastel colored clothes.
The sweety girl Panypang and friends
Swimsuit Contest - Pick your favorite swim suit and heat out to the pool for the best swim suit contest of the year! The weather is just perfect and you are so elegant in your pose that all the judges will surely love you. You are sure to get a perfect 10 and win first prize. You have been to Beauty Pageants before, but this one takes the cake. Dress to impress with your favorite bathing suit for this online beauty pageant.
Switchzoo - Create many bizzare animals by switching body parts. Fun!!