Featured Sites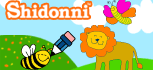 Shidonni - is a virtual world where what you draw comes to life! You then feed, care for, and play games with your creation.
Dress Up Gal - This is no ordinary site for girls! Girls like to play dressup games but who is to say that they can't play boys games as well? We have put together a collection of fun and exciting games such as Barbie Games and Hannah Montana Games from many categories sure to keep you entertained for hours on end.
Miss O & Friends - By girls, for girls. Lots of fun dressups and other activities.
DressUpGamesDirectory.com - Easy-to-use listings with descriptions and links to free dressup games and related activities.
Games for girls - The best games online for girls!
Dress Up Luv - The best place for online dress up games! Girl games, guy games, we got em all.
PampaGames.com - A great site with many dressup and roommaker games!
The Dress Up World - Free online dress up games, fashion games, doll makeover games, and room decoration games. You can select each category and go inside the DRESSUP WORLD .