Lady Gaga Celebrity Makeover - Everyone knows Lady Gaga by now, what with her insane amount of number one singles such as Poker Face and Paparazzi. Everyone also knows that Lady Gaga has a crazy and funky style. Gaga has asked you to come up with her latest look that is sure to get your look into all the gossip papers.
Lady Gaga dress up - Dress Lady Gaga in the unique fashions she is known to wear.
Lady Scorpio - As the daughter of the famous super villain, Scorpio, Lady Scorpio is trying to get out of her father's shadow, but it's difficult to break out of the family business! That's why she's starting to form her own rival gang to show her father what's what!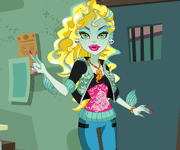 - Lagoona Blue - Lagoona Blue is the daughter of the sea monster. She has a pet piranha named Neptuna, and is a transfer student from "Down Under" (the sea) . Let's dress her up!
Lea Dress Up - Dress up Lea in this game just for girls so that she looks pretty. She always wants to look lovely and she has some great outifts, so she's counting on you!

Leah Lion Hunter - Leah has been looking for bigger game for a while now. She's mastered the art of hunting the graceful deer, and although her wall is covered in antlers, she's looking for more dangerous game to try to bring down. A friend of hers recommended lions, and so now she's on her way to Africa to bag one!
Leon the Cat - Who will Leon the cat be today?
Leonardo DiCaprio Celebrity Makeover - We have been called in to give our all-time favorite from the movie Titanic Leonardo DiCaprio a complete makeover. Help him to choose what clothes, accessories and makeup to wear so that he can go to the next big film debut in style.
Leprechaun Fun - dress the leprechaun at billybears4kids

Let's Dance - Her moves will make you blush, and don't try to avoid making eye contact because she'll pull you off the wall and get you in the center of the dance floor! She loves to dance and with moves and clothes like this, she'll get you to love it, too!
Levi's dress up - Find a great outfit from the Levi's company.
Library Liz - Sometimes you just want to go to the library and pick up a good book to read and cuddle up. What book will you pick out and what will you wear? You decide!
Librarian Dressup - Dress the librarian in a variety of clothes.
Lifeguard on Duty - Youre a life saving life guard and you have to look good for the job. Here you get to pick your swim suits, and all your life guard accessories. Dont let anyone drown while you are busy picking out your clothes though so keep an eye out!
Lilou Dress Up - Dress up pretty Lilou in this game just for girls. She always wants to be the most pretty for all occasions, so she's counting on you and her amazing wardrobe!
Link dress up - Link needs a makeover. See what kinds of styles rule Hyrule to make him the prettiest knight in the land.
Little Angel - Dress the baby angel in a many outfits, halos and wings.
Little Brown Puppy - Dress the puppy and decorate the dog house.
Little Forest Dress Up Game - Dress the little girl and create a cute forest scene.
Little Halloween Witch - Help a sweet little witch decide what to wear in "Little Halloween Witch"
Little Mismatched - Dress the mismatched girl using a huge selection of clothes.
Liz + Zac = 4ever - If spirits send you a sign, you should listen! And if it's as clear a sign as pointing out the romance that's growing right in front of your eyes, then ask them for lottery numbers, too! Style these two cute future lovers for a night they'll never forget!
Lizzie McGuire Dress Up - Help Lizzi Mcguire put on some very fashionable clothes. Use zoom in and out for your better application and make her look really nice.
Lolita Styling For The City - Today your going to meet up with your mates in the city, all your friends are Lolita style fanatics, dressing up as a Lolita takes skill and time to get it looking right. Let's see if you have what it takes to make this girl look as Lolita like as possible so she fits in perfectly with her friends in the city.
London's Suite Styler - from the Suite Life of Zack & Cody
Lonely Hearts Emo - Sometimes you get depressed because it seems like everyone else has a BFF or a BF except for you. Let this game keep you company until you find someone you can really enjoy to hang out with! Dont be depressed, but enjoy the music and the outfits to fit your emo lifestyle.
Lookout Shooter Girl - She has hired you for your excellent dress up and makeover skills in order for her to look her best for her job tonight. To make things even more fun there are plenty of items to choose from in order to change her appearance!
Love Angel - This angel is the angel of love, since she is the angel of something very important you should make sure she looks important and beautiful at the same time. This can be quite tricky but since you are so good at dress up I dont think it will be too hard.
The Love Fairy - This beautiful creature is a magical love fairy that lives in a colorful world. Change her look to anything you like and use your talent to create the fairy of your dreams.
Love In The Airplane - In this game it is your task to find away to get the two love birds to sit next to each other, you will need to set in motion some events to allow you to help the girl sit next to her man. To do this you will need your MOUSE to interact with the game, remember clicking on certain things at the right time will set things in motion!
Lovely Brides Maid Dress Up - Give this lovely brides maid a complete new look by choosing all of her delightful clothes and accessories. The party has a unique open theme so you can dress up this brides maid in anything you like. Just make sure that you don't let her go to the wonderful wedding in just any old clothes and accessories. There will be all different types of dresses to wear all of which should make her look fabulous for her best friends wedding.

Lovely Lady Goes Gaga - Everyone knows Lady Gaga has the most unique style in the world, but can you create an outfit that will surprise even her?! Choose from a variety of wacky hairstyles paired with some exciting glittery and sparkling dresses, sunglasses, and bracelets!
Lovers Park - You have a serious crush on that special some one, you asked them to meet you at Lovers Park for a date and they said ok. So now make sure you dress your self for the perfect night. Click on the little clothing items to go through your options.
Lovely Maker - you can create beautifull Rooms.
Lovely Mini-Rooms - Make a lovely mini room for your doll.
Lovely Mom to Be - Use your awesome style skills to make this future mother look her best. If not for her do it for the baby who deserves a good looking mother when it arrives into the world. Pregnant, but in style!
Loving site - You can make a valentine's date or a doll's wedding.
The longest yard face painter - from the movie "The Longest Yard".
Lucas Learning's - Make-a-Hero
Luxury Spa Roommaker - Design and decorate an elegant Spa, with shower areas, fitness services, indoor and outdoor pools, relaxation lounges with private steam and sauna. Elegant furnitures and gorgeous decorations.