Fabulous Feet - This foot model will be showing off some new shoes at a photo shoot later on today. Use your awesome makeover skills and create your work of art on her feet. Making her feet look perfect will be exactly what the photographers are looking for as well as the fashion companies.
FaceBook Girl Fashion Tips - This girl loves to update her FaceBook page alot! She wants you to make up some styles so she can place them on her new FaceBook page. If you want to help her you should take your time to go through all the different items until you find the items you like then use them to make the entire outfit. This game is great fun to design new styles, let your imagination run wild!
Face Maker - Create the perfect face with all the different options.
Fabulous Nails - Your shop does the coolest nail makeovers in town. Today you have a special client that will be on TV showing off her new fashion accessories. Help this special client get the makeover for her nails she deserves. Take your time so you do an excellent job.
Faerie Moon Garden Doll maker - Make your own faeries.
Fairy Tale - Impressive famous fairytale fashion game in which you'll be able to dress a collection of princesses and magical characters like Little Red Riding Hood, Alice in Wonderland, Tinker Bell, Rapunzel and many more. Create a dreamy style!
Fairy Tale Wedding - Fairies need to get married, too! And since they're always running around making poor scullery maids and trapped or abandoned princesses meet their Prince Charming, it's about time we got to see a love story unfold for the fairies! Dress up this unsung couple in their beautiful regalia for a wedding to rival even the greatest human ceremony!
Fairy World Maker - All the magic of Fairies on this site! Make your own Fairy world.
Fancy Foot Pedicure - As a shoe model this girl has to have perfectly manicured feet and toes. Style them to look perfect in any magazine, paint the nails, put nail stickers on some of the nails to give them an extra coolness boost, you can even put tattoos over her feet to give your feet styling an edge! Enjoy getting a lovely pedicure!
Fancy New Year's Party - Help the girl choose a gorgeous gown for this important event.
Fantasia Place - A complete site with hundreds of Room Maker, DressUp Maker, Doll Makers, Beauty Place, etc.
Fantasy Elf Girl - Create your own Elf Warrior.
Fantasy Horse Toy - Create your own plush toy horse with wings.
Fantasy Wizard Maker - Make your own cute wizard!
Fashionable Corporate Dinner Outfits - Corporate dinners are always fashionable events. Your task in this game is to simply make the best looking outfit possible for a formal yet fashionable event. This event will have your boss attending and your bosses friends, as such formal people are attending the even you should make sure your outfit is fitting to the occasion. Take the time to go through your clothing and accessories to choose the best looking combination of items until you come up with the perfect outfit for the event.
Fashionable Furry Friends - Dress the Pony, the Chihuahua, and the Bunny have been added to the Fashionable Furry Animals at Miss O & Friends.
Fashionable Printed Dresses - The newest style going around are printed dresses, these dresses are full of fun and color so mixing and matching items is super easy! Help this girl look awesome for the party tonight, she likes loads of colors so make sure you keep that in mind when choosing her outfit!
Fashion Sales Girl - Owning your own fashion store is great, even though your the boss its still important to look your absolute best for when a customer comes into the store, its even better when your wearing your own brand to show off to a customer when they walk in the door!
Fashionable Sports Coach - This lady Coach is into sports and fashion so make sure to help her get ready for the game tonight. She wants to look great for a special someone she met a couple of days ago, so sport and sexy is the theme for tonights game.
Fashion Artist - Don't let your talents go unnoticed! The canvas is clean and ready for you to paint a beautiful scene. Pick your favorite clothes, art, and accessories and enjoy bringing out the artist in you.
Fashion dressup Eporium - More than 50 Dressupgames with the lastest fashion trends. Dolls are ready to be dressed, be a fashion designer and select the best look for every doll. Lets Go Play!
Fashion Doll - A bigger dollmaker.
Fashion Dress up Games - Dress up games for girls. If you love Fashion, Here is the place! You can find tons of Fashion Girls Dressup Games, just select the game and go inside the fashion tour!!
Fashion Frenzy - Create your own line of clothes with this game.
Fashion.i-dressup - It has brand clothes and looks very nice.
The Fashion Police - This lady cop loves to look awesome even while shes on patrol. As her best friend she has asked you to create the best cop outfit for her patrol tonight. If you think you can help, show her the style you think she should wear!
Fashion Show Shooter - At the fashion show they are hosting a cool game of shooter! Take control of the gun and shoot the annoying little stick men that appear from around the corners of the game. Make sure you reload otherwise you may run out of ammo! You can't dress up for the fashion show until you shoot the bad guys.
Fashion Swimwear Dress Up - Incredible game of fashion for summer 2011 in which you'll be able to try on the bikinis and bathing suits that appear in the best fashion magazines. Get tan on a tropical beach, looking cool with an inimitable style thanks to the combinations of the best summer accessories.
Fashion World Maker - Be inside the fashion industry. Make your favorite Fashion Show. First, go behind the scene and create the fashion backstage, with the designer finish the creations. SuperModels, hair and makeup stylist preparing for the fashion runway. After, visit the Fashion Show, create a Glamorous Catwalk with beautiful Supermodels, paparazzi, flashes, and VIPs!
Favorite Bedroom Decoration - You have just bought a brand new home for you and your family. Go out and buy all new furniture to place in your Childs room so that they can enjoy playing with all of their toys in their own space. Once you have bought all of the furniture's, fixtures and toys place them in the room so that you can surprise your child and see the look of excitement on their cute little faces.
Fingernail dress up - Make very cute nails!
Fire Fairy -This is one the last fire fairies in all of the land so it's only logical to give your wonderful fairy a complete makeover so that she will be remembered forever. Choose from many different types of clothes and accessories for your fire fairy to wear. Once you have chosen her clothes be sure to choose what wings she would wear otherwise what is a magical fairy without her wings to fly around with. As the fairy starts to fly around she will want to show off her magical powers so help her to figure out what type of spell would be best to show off.
Fishing Couple - After a long and stressful week you and your boyfriend have decided to go on an exotic fishing trip at the nearest lake. Help your boyfriend choose what clothes to wear while he chooses which of his fine fishing rods to take. As you will be fishing at the lake and there will be no restaurants near by just remember to take a packed lunch as you never know how long you will spend on that clear shimmering water.
Fish Tank Creator - Build an undersea paradise.
Flower Fairy Doll - Dress the cute flower fairy doll in her colorful costumes and outfits. Choose a perfect flower for the fairy to sit on and the right pair of wings for your fairy.
Flower Power dressup - The enchanted dollmaker. You can create fantastic princess flowers with differents dresses, shoes, hair, all in FLOWER POWER fashion!!
Fluffy Starz Dress Up - Help this lovely Cat. Make Her Shine!!
Forest Fairy - Click the arrows to dress up the forest fairy. She loves and lives with flowers, trees and all the creatures in the forest and her clothes are often based on things in nature. Choose an outfit fit for a fairy by clicking the arrows. Check out her fairy wings, they are my favorite feature! Doesn't she look at piece with nature?
Forest Fairy Annie - Dress the peaceful and nature loving forest fairy in ethereal outfits!
The Forest Fairy - This beautiful forest fairy loves to dress up. She's throwing a special forest party and has invited all her forest friends, all she needs now is to find the perfect outfit for the occasion. Can you help her dress up?
Forest Outing - This is a beautiful place to make some photos for your friends to see when you get home. Just make sure you look good in the photos, dress up the girl to look her best. Its the least you can do in such a beautiful place! Enjoy the woods and the lovely outdoors scenery. The trees and the greenery are the perfect place for your outdoorsy style.
Fortune Girls - Fortune Girls seeks to encourage tweens to be confident, focus on the
positive, appreciate diversity and discover ways to make a difference in the world while having fun! We truly hope to inspire girls to follow their dreams and love themselves!!
Football Fan - Football fans are always dressed in comfortable clothing so they can be super comfy while cheering for their favorite team. Your styling skills will be important when it comes to helping her choose her clothing for today's football game. Mix and match the different items and you will eventually come across something comfortable that looks good as well!
Frankendoll.com - fun dress up game!

Freaked Out Freestyle - This hot hip hop star is at the top of the music charts, and there's no way that she's stopping now! Break out some sick dance moves and dish out the cash to buy the slickest new threads. Impress your fans with your beatbox fashion!
The French Connection - Models enjoy trying out new clothing, this time is the French Connection style. Put together a cool outfit for todays photo shoot. This could be your big shot so make sure you look great!
Friends In Cape Town - These two girls got together for a holiday in Cape Town, Australia. Since its a once in a lifetime trip for them, they took lots of different fashion items! Help these two pretty girls choose the right outfit for the occasion. Try lots of different options until you find the right combination of clothing that makes them look great!
Friends Meet In The City - This game is about designing three different outfits for three different people. two girls are going to need a new style and one guy is going to need a new style. The location for the friends to meet is in the middle of the city so a cool urban look should be created for all three of them. Take your time and put your fashion and dress up skills to good use so these young people look great!
Fruit Princess - Dress up fruit princess with different fruits such as strawberry, kiwi, orange, or blackberry. You can even mix and match! Yummy!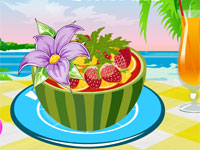 Fruit Salad Decoration - A food decoration is very important and it makes the food to look great. Here you have few ways to decorate a fresh fruit salad. Combine different fruits with awesome decorations and make the best salad ever. You have skills so you can't fail this challenge easily. Serve the delicious salad to your best friend and I am sure he or she will love it. Have a great time!
Fruit Shop Girl - Just because your working in a Fruit Shop does not mean you can't look good for that special someone you have a crush on! As your best friends with her you should try and give a hand in picking out her outfit for work tomorrow.
Fudgy Walnut Brownies - It wouldn't be the same if these Fudgy Brownies didn't have Walnuts. These
chocolate brownie mix looks just as delicious as the finished product. Follow the directions carefully and blend these cocoa powder into the perfect chocolatey treat!rnrnUse your mouse to follow the instructions and create these delicious deserts.
Funky Fairy - The Funky Fairy has called upon you to help her. What can you help her with I hear you asking? You're going to have to dress and style her for today's big forest event. Do you think you have what it takes to dress this fairy from top to bottom with her very best clothing?
Funky School Girl - You didnt get the name Funk School Girl for no reason! Make sure you dress as hip and funky as possible to keep up your reputation of being the most funky and hip girl in school!
Funny Bunny - Dress up this funky bunny whichever way you want. Use your creativity don't be afraid to mess him up!
Fun On The High Streets - It's time to pop out for some fun with your mates, to go out with your
friends its important to look awesome, take your time to look at all the different items in the wardrobes, once you have found the items you like and you think look good on you, you should put them together to make up the outfit. Once your happy with the style you are ready to go out for some fun times.
Fun Time In France - These girls have just arrived in Paris France for a great vacation in Europe. Since this holiday is in Paris France, the fashion and styling capital of the world, it's very important that these girls look their best. Make sure they look fashionable and stylish for their days out in Europe.